16. June 2023
OMNIPOL has signed a contract with Uzbekistan Airways for the sale of two L 410 UVP-E20 aircraft.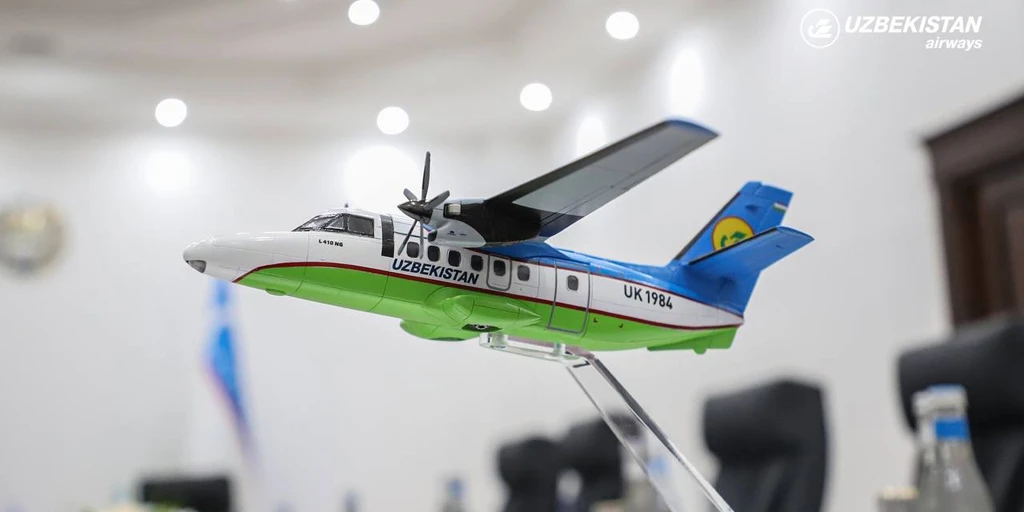 Prague 16.6.2023: On Thursday, the 15th of June 2023, a contract, was signed between, OMNIPOL and Uzbekistan Airways for the sale of two L 410 UVP-E20 aircraft was signed in Tashkent, Uzbekistan.
Uzbekistan Airways is the national civil carrier in Uzbekistan providing passenger air services all around the world. They have a long history and operate an extensive modern fleet, including Boeing 787 and Airbus A330 aircraft.
Uzbekistan Airways is one of the most important aviation companies in the Central Asian region. As part of the revival and support for the development of their domestic flight infrastructure, the airline has now decided to, expand its fleet with 2 aircraft from, the well respected Czech aircraft manufacturer, Aircraft Industries.
"It is a great honor for us that, our L 410 UVP-E20 aircraft will be part of such a major airline as Uzbekistan Airways, where they will provide services on domestic regional routes. Our aircraft are ideally suited for, these domestic operations in what are known to be challenging conditions," said Jiří Podpěra, President of OMNIPOL.
The L 410 UVP-E20 aircraft have been customized, according to the customer's specifications and have a capacity for 19 passengers together with luggage. The seats will be all-leather seats and the aircraft fully air conditioned for complete passenger comfort.
The first aircraft delivery is planned for July 2023 and the second for the end of 2023. Representatives of the both companies, OMNIPOL and Uzbekistan Airways, have already started negotiations on future further cooperation.
The interest in our aircraft was initially expressed, by high ranking Uzbek Government Officials during the visit to Uzbekistan in May 2023 by the Czech Prime Minister Petr Fiala, whose team fully supported the negotiations.
For more information, please contact:
Marika Přinosilová, MSc.
Director of Marketing and Communication
Mail: marika.prinosilova@omnipol.cz
OMNIPOL
OMNIPOL is an investment and trading group with nearly 90 years of experience in the domestic and international market. The company provides cutting-edge solutions for the aerospace, defence and security sector.
Aircraft Industries
Aircraft Industries is a Czech company with more than 80 years of aerospace manufacturing experience. It was acquired by the OMNIPOL Group in 2022 and is currently engaged in the development, production, sales and service of the L 410 series aircraft.
The L 410 UVP-E20 and L 410 NG aircraft are both a turboprop, all-weather unpressurised cabin aircraft that excel in reliability, safety and the ability to operate in extreme climatic conditions. The L 410 series is operated in more than 60 countries worldwide.
The OMNIPOL Group also has in its portfolio of companies ERA, MESIT Holding, and co-owneship of Aero Vodochody, all located in Czech Republic.